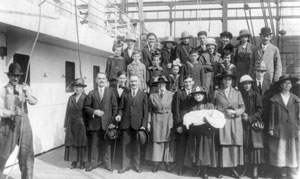 Most societies evince vast disparities in wealth, power, and privilege among groups distinguishable by skin color, phenotype, and heritage.  The faculty and that comprise the Division on Racial and Ethnic Injustice seek to understand the full dimensions of racial and ethnic disparities in the United States and abroad in an attempt to find solutions that bring people together.  We also examine the challenges and opportunities presented by living in an increasingly globalized multiracial and multiethnic world, and we believe that a better understanding of racial difference can sometimes be obtained by focusing fully on understanding a single racial or ethnic group.  Members of our division focus on several dimensions of race and ethnicity including domestic violence among Asian couples, racial and ethnic disparities in education, cross-linguistic communication among the deaf, racially sensitive research designs, and ethnic identity and political resistance in Latin America.
Representative Publications
Alderman, Derek H. and Arnold Modlin, Jr. (2013). "Southern Hospitality and the Politics of African American Belonging: An Analysis of Photographs in North Carolina Tourism Brochures." Journal of Cultural Geography, 30:1, 6-31.
Modlin, E. Arnold Jr., Derek H. Alderman, and Glenn W. Gentry. 2011. "Tour Guides as Creators of Empathy: The Role of Affective Inequality in Marginalizing the Enslaved at Plantation House Museums." Tourist Studies 11(1): 3-19.
Alderman, Derek H. 2010. "Surrogation and the Politics of Remembering Slavery in Savannah, Georgia." Journal of Historical Geography 36: 90-101.
Alderman, Derek H., and E. Arnold Modlin, Jr. 2008. "(In)Visibility of the Enslaved within Online Plantation Tourism Marketing: A Textual Analysis of North Carolina Websites." Journal of Travel and Tourism Marketing 25(3-4): 265-281.
Alzate, Mónica M., David P. Moxley, Stephanie A. Bohon, and Larry Nackerud. 2009. "The Influence of Perceived Health Status on Poor Women's Confidence in Leaving Welfare: Implications for Social Work." Social Work in Health Care 48: 1-19.
Bohon, Stephanie A. 2009. "The Contribution of Latinos to Georgia's History: Past and Present." In Mark Overmyer-Velazquez (ed.) Latino America. Greenwood, CT: Greenwood Press.
Bohon, Stephanie A., Monica Kirkpatrick Johnson, and Bridget K. Gorman. 2006. "College Expectations and Aspirations among Latino Adolescents in the United States." Social Problems 52(2):207-225.
Bui, Hoan. N. 2013. Racial and Ethnic Differences in the Immigrant Paradox in Substance Use. Journal of Immigrant and Minority Health, 15(5):866-81.
Bui, H. N. 2011. "Segmented Assimilation: Racial Differences in the Relationship between Immigration Status and Delinquency." In C. Garcia Coll & A. Marks (Eds.), Is Becoming an American a Developmental Risk? (pp. 135-158). American Psychological Association.
Bui, H. N. 2010. Crime and Punishment in Vietnam. In D. Chu & H. Haye (Eds.), Crime and Punishment Around the World, Volume 3, pp. 286-299. Santa Barbara, CA: ABC Clio.
Schultz, K. & Coleman-King, C. (2012). "Becoming visible: Shifting teacher practice to actively engage new immigrant students in Urban Classrooms." Urban Review. doi:10.1007/s11256-012-0204-7.
Davis, J. 2003. "Cross-linguistic Strategies Used by Interpreters." Journal of Interpretation, 18(1), 95 – 128.
Davis, J. 2004. "Interpreting in the Community". Views, 21(7), 1-25.
Davis, J. 2005. "Teaching Observation Techniques to Interpreters." In C. Roy (Ed.), Advances in Teaching Sign Language Interpreters (pp. 61-89). Washington, DC: Gallaudet University Press.
Handelsman, Michael. 2005. Leyendo la globalización desde la mitad del mundo: identidad y resistencias en el Ecuador. Quito: Editorial El Conejo. [Awarded the Alfred B. Thomas Best Book Award from the Southeastern Council on Latin American Studies, 2006.]
Handelsman, Michael. 2007. "Entre la ira y la esperanza (1967-2007). Una lectura y escritura desde la interdisciplinariedad," en Carlos Arcos (Comp.) Sociedad, cultura y literatura. Quito: FLACSO-Ministerio de Cultura, 2009 (pp.385-98). Also published in Podium, 11 (diciembre 2007), 123-27.
Handelsman, Michael. 2008. "El Entenao de Alfredo Pareja Diezcanseco y la afirmación de la cultura montuvia como componente integral de lo nacional, " Kipus. Revista Andina de Letras, 24 (II semestre 2008), 43-58.
Sharma, Madhuri. Forthcoming. "The Changing South: An Examination of Residential Intermixing and Neighborhood Contexts in Knoxville, Tennessee. Regional Science Policy and Practice,
Sharma, Madhuri. 2013. "Diversity in Knoxville: An Applied Perspective". Applied Geography, 42:140–154.
Sharma, Madhuri and Lawrence A. Brown. 2012. "Racial/Ethnic Intermixing in Intra-Urban Space and Socio-Economic Context: Columbus Ohio and Milwaukee Wisconsin." Urban Geography. 33(3): 317-347.